Help with Jobs | Guide to finding that perfect job or career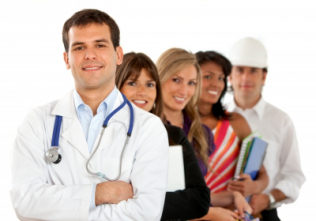 Welcome to HelpwithJobs.co.uk
This site is for anyone who is thinking of changing jobs, looking for a new career, or about to start a new position.
We guide you through the process and offer tips and advice on how to get ahead and stay ahead in the job market.
The site is divided into seven sections and gives information and advice on the various procedures and stages that you go through when looking for a job or prepare for an interview. We hope that what can be a very daunting process will be made easier after reading Helpwithjobs.
Finding a job
The first section in our guide is about finding a job and how to assess which job or career is right for you and your personality.

We discuss the importance of networking and building contacts within the working environment, as well as the best methods to employ when searching for a job.

The final page details what you should do if you are looking for a promotion at work or if you want to move up in your career.
Curriculum Vitae
In recent years the format used to write a CV has changed dramatically and we help you decide which type of CV is best for you and your current work situation. We offer tips on how to set out your CV, as well at what information to include or leave out. This section also covers the importance of a cover letter and what is expected from a job application form.
Career change
In this section of Helpwithjobs we discuss what to do when you feel it is time to move on from your current job and what to do when you want to change careers completely. Here, we outline the importance of transferable skills, particularly when changing career fields and also the important aspects when being faced with relocating for a job.
Guide to interviews
The job interview is probably one of the most nerve-racking experiences that you will ever have to go through in your life.

Our guide gives advice on how to prepare for the interview beforehand and on how to conduct yourself in the interview to give the best impression possible so that you are offered that all-important job.

We cover aspects such as what to wear for the interview and body language, as well as offering you a number of useful questions to ask the interviewer and which questions to expect that you may be asked in return.
Starting a new job
The job interview is over and couldn't have gone better, as you were awarded the job that you applied for. Now you are ready to start your new position, which brings a different set of worries and anxieties in itself. Here, we discuss the best ways in which to settle in to a new job and how to make a good impression on your first day.
Leaving a job
Nowadays many of us will change jobs a number of times in our working lives. This may be due to a better job offer, a complete career change, being made redundant or through being sacked. In this section we offer advice on how to leave a job the right way, ensuring that your name and reputation are left in tact, plus information on the legalities of being made redundant or being sacked, with advice and ideas of how to go about engineering your next step.
Know your rights
This section looks at the different legislation relating to the workplace. It includes extensive guides to health and safety, working hours and wage-related information.