Statutory Sick Pay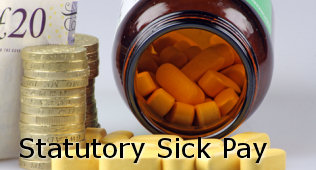 The majority of us are not immune to getting ill and will find that perhaps one or two times a year, we need to take time of work due to contracting a virus, illness or other unfortunate ailment.

So, what are your rights when it comes to being absent from work due to illness?
Advertisements
Introduction to statutory sick pay
Most employees are entitled to Statutory Sick Pay (SSP) based on the number of hours they are contracted to work. This type of pay can be paid out for a maximum of 28 weeks (around 6 and a half months). However, to be eligible for SSP, certain rules do apply.

For example, if you are ill for up to a maximum of 7 days, and your employer requires official notification of your illness, you need to do what is known as 'self-certify'. This is a form that your employer provides that you need to fill in and return to them detailing why you cannot work.

Many employers do not require a self-certification form and may want you to verbally explain why you cannot work - as always, you will need to check your contract of employment to ascertain what policies your employer has put in place regarding sick leave.

If you know that you are going to be absent from work, you should inform your boss within an hour of the time you are supposed to start (whether you phone in yourself or ask somebody else to). You should also give them an idea of when you think you will be able to resume work. If after 7 days, you are still unable to work due to illness, your employer is then entitled to ask for medical evidence in order to pay you statutory sick pay. This will entail you asking for a statement from your GP which details why you are unable to work.

You are entitled to statutory sick pay as soon as you start working for your employer and do not have to satisfy any minimum "continuous employment" conditions. However, you do need to earn at least £111 a week (before any tax or NI deductions) and be absent from work for at least four days in a row, which can include weekends, banks holidays and any other days that you don't usually work, to be able to claim SSP.

If you are eligible, statutory sick pay will only be paid out to you for 'qualifying days'. These are the days that you would normally be expected to work (eg. if you normally work Monday to Friday, you will not be able to claim SSP for the Saturday and Sunday that you would not usually be expected to work).

Remember that you will also only be paid from your fifth day of being ill, so if you fall ill on the Monday, you won't in effect start being paid until the Friday.

SSP is generally calculated on a weekly basis and the standard rate is currently £87.55 per week. When necessary, however, it can also be paid at a daily rate.

SSP is paid by the employer and can be reclaimed back from the government.
Who is eligible for Statutory Sick Pay?
Nearly all employees are entitled to receive Statutory Sick Pay when off sick from the fifth day. However, there are some exceptions. You will not receive SSP if:
You do not earn enough to contribute to National Insurance payments
You are pregnant and currently receive SMP or Maternity Allowance
You are off sick within 57 days of receiving Social Security benefits
You are in prison
You are on strike
Your job terminates whilst you are off sick
You are a new employee that has not done a single day's work under the contract of employment
Long term absence
Employees taking a couple of days off throughout the year due to illness is not necessarily a huge issue for employers, however if this turns into frequent bouts of illness or develops into a long term absence from work, then your boss will have to speak with you about your options. It's important to ensure that you keep in regular contact with your employer during your absence and that you are able to arrange a 'return to work' interview when necessary.
It is possible that your employer will be able to offer you an alternative role or more flexible working conditions that would allow you to continue earning. You will need to ensure that you have a clear understanding of how long your employer can continue to hold your job open for you and what your options are should you not be able to resume your old job.

If you are unable to return to work after the 28 weeks during which you are entitled to statutory sick pay, you may be able to claim Employment and Support Allowance from the Government. This entails undergoing an assessment called the Work Capacity Assessment, which looks at what jobs you are able to do despite your illness, rather than what you cannot do. You may then be able to claim financial support as well as help with finding alternative employment that you are able to undertake.

A decision to permanently dismiss an employee on long-term illness can only be taken as a last resort and only after all alternative solutions have been considered.
Occupational sick pay schemes
Whilst statutory sick pay is a scheme introduced by the Government, your company may have its own sick pay scheme and it's worth finding out if this is the case. Many employers offer a scheme that is actually 'better' than SSP in terms of the benefits it can offer you and any employer scheme cannot fall below the minimum legal levels of SSP.

Usually, details of your employers sick pay scheme will be included within your contract of employment, however, if no such information is present it is more than likely that your employer does not offer their own scheme.
What happens if your employer will not pay you?
Occasionally, employees may encounter issues with receiving statutory sick pay. If your employer is not paying you anything, is not paying you enough or has not paid you when they should have, it is important that you ask for a written explanation of why this is.

If you still do not agree with their decision, you can contact HM Revenue and Customs (HMRC) for advice on whether your employer is right. If the reason for refusing to pay you statutory sick pay is that your employer does not believe you are sick (in spite of any medical evidence you have given them), HMRC will arrange for you to have an additional medical examination.

HMRC will then make a decision as to whether you are entitled to statutory sick pay and, if the decision is in your favour, they will instruct your employer to pay you. If they do not decide in your favour you have 30 days to lodge an appeal. Remember, your employer can also lodge an appeal within 30 days if they do not agree with the HMRC's decision!

It is possible that you could claim Income Support whilst your appeal is ongoing - to find out if this is the case just contact the Department for Work and Pensions (DWP) on 0800 055 6688 or visit the website at www.gov.uk.
Advertisements