Chronological CV - what is and when to use a chronological CV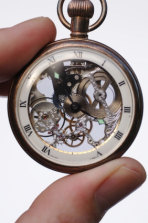 What is a chronological CV?
The chronological or performance CV is the most widely recognised and commonly used CV.
It highlights employment history, which should appear near the top of the first page, and lists job titles and companies in reverse chronological order. Your most recent job will appear first and then you work your way backwards.
In this type of CV, it is the name of the company and job titles that are mentioned first and that are the most important. They are often highlighted in bold, along with the date, so that they stand out. Duties and tasks are written underneath.
Advertisements
When to use a chronological CV
The chronological CV is basically used when candidates have an impressive career in one chosen field and have steadily progressed accordingly. It is suitable to use if you want to stay in the same industry but are looking for new opportunities or to be promoted.

In this case, as it is the previous employers that are highlighted, just seeing the name of some of the previous companies that you have worked for (if they are well-known) is enough for a potential employer to know that you are highly skilled, hardworking and good at what you do (otherwise you wouldn't have worked there in the first place). This is ideal when employers have hundreds of CVs to read but not enough time to read them all.

If you have worked steadily in one or a few jobs but have few achievements, this can be masked with this type of CV.
When not to use a chronological CV
Do not use this type of CV if you want a complete career change or you have just left school or university, as this will draw attention to your lack of experience rather than emphasising your skills. If you have been out of work for prolonged periods, due to whatever reason, this is not the best format to use either.
Your chronological CV should include:
(in this order)
Name and contact details (address, telephone number, mobile number and email address).
Summary of your career as a whole (also known as your profile). This should be approximately 30 words and consist of a short and positive statement of what you have done and can do to help your new employer prosper in his business with the skills that you have.
Career history in reverse chronological order. The name of company, job title and dates highlighted on the first line, followed by duties and responsibilities that match the new job underneath.
Additional skills and achievements can be added after but is optional. List up to 5 skills and achievements in bullet point form. This will demonstrate how you will add value to the new company.
Education and qualifications in reverse chronological order. Include dates, name of the course, name of the educational establishment and the grade achieved.
Interests and hobbies if they relate to the post or if they show off other aspects of your personality.
References. It will suffice to put AOR (available on request).
Advertisements
Sample Chronological CV
Ann E. One
123 The Road, London, SW12 49X
0207 600 0000, 01234 5678, ann@example.com
| | |
| --- | --- |
| Profile: | Ten years sales experience working my way up to managerial position. Highly successful and focused with strong customer relations, selling and managerial skills plus proven annual increased sales track record. |
| | | |
| --- | --- | --- |
| Sales Manager | The Shop, Fulham | 2005 - present |
Responsible for a team of 8 staff. Managed the daily running of a large fashion retail store, which included buying stock, promoting clothes lines, coordinating sales and promotions, as well as training staff and communicating with customers.
Responsible for managing 5 full-time and 3 part-time staff. In charge of organising holidays, scheduling rotas and any sick cover plus hiring of new staff.
Liased with and built up excellent working relationship with suppliers and delivery agents.
Planned and organised promotions, advertising and sales with result in increased profitability.
Responsible for increased annual turnover of 20%.
In charge of cashing up and banking daily takings.
| | | |
| --- | --- | --- |
| Assistant Sales Manager | The Store, Balham | 2001 - 2005 |
Assisted the manager of the store in daily duties and took on full responsibility when manager absent. Duties included handling purchasing transactions and customer relations.
In charge of store and staff when manager was away.
Aiding customers and helping to deal with enquiries and sales.
Handling payments of cash, credit/debit cards and cheques.
Helping to design and set up shop floor displays including special promotions.
| | | |
| --- | --- | --- |
| Part-time Shop Assistant | The Store, Balham | 1997 - 2001 |
Advised customers on their choice of purchases and dealt with cash and credit transactions.
Selling ladies' fashion to the public and dealing with enquiries and complaints.
Handling cash, cheque and credit/debit card transactions.

Education and Qualifications:
2000 London University, BA Honours Sales and Marketing (2:1)
1996 St Robert's High School, A Level in Maths, English and Business Studies
1994 St Robert's High School, 8 GCSE's in English Language and Literature, Maths, Chemistry, Art, Spanish, French and RE
| | |
| --- | --- |
| Interests: | Am interested in fashion and like to design and make my own clothes. I enjoy socialising with friends and attending and selling at car boot sales. |