Your CV - An advanced guide. Details and information that must be included in a CV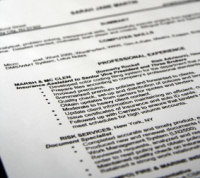 The CV is not what it used to be. What was previously acceptable to include is now deemed off-limits, and vice-versa; so for someone who has not written a CV for a while, the whole process can be extremely confusing.
This page focuses on the information that you must include in a modern day CV and how to present it. Our guide "
What to avoid
" discusses what should never be included.
Name and contact details
Your name should always go at the top of your CV. It is usually centred at the top of the page with contact details following. You can write your name in bold, but it is not necessary. Give your name as you would usually introduce yourself to other people; thus don't include your middle name. Unless your christian name could be mistaken for one of the opposite sex, it is not the norm to use Mr. or Mrs.

On the next line or lines write your full postal address. The town and postcode can appear on the same line to save space.

Next, is your telephone number. Include the area code, especially if you are hoping to relocate.

Finally, add your email address. This is perhaps, just as important as your telephone number, if not more.
Advertisements
Profile
The profile may also be referred to as "job objective", "objective", or "career focus". The choice is yours. This is just one or two sentences that detail the job you are looking for and the skills and attributes that you have to match it.

It could read anything from "Job Objective: Sales Manager" to "Job Objective: To pursue a career in Human Resources where my skills in recruitment and training can be put to good use."

In some cases it is best to be as broad as possible, so that your CV is not filed away under one obscure category.
Employment history
This information will appear below the profile if you are using the chronological format.

Start with the name of the company and the town or city in which is located. There's no need to include the full address. You will list previous jobs in reverse chronological order.

Employers are slightly wary if employment dates are not included, and so it is best to include them if there are no long gaps in your employment history. If there are gaps, it would be better to use the functional CV. However, periods of unemployment can often be explained without causing worry to the potential employer.

Next, add your previous job title and again, try to be as broad as possible. Use terms such as "administrative assistant" instead of "secretary". Think in terms of your role rather than your actual title.

After this comes the substance of your CV and details of all of your experience, achievements and contributions to your previous company, set out in bullet points.
Educational history
If you are just out of school or university then this section would be of utmost importance, due to your lack of experience in the work field.

As you gain experience in the professional field, your educational history will have lesser importance to your potential employer and you can place it lower down on the page of your CV.

As with your employment history, list your academic achievements in reverse chronological order.

It will suffice to write the name of your qualification, the grade in brackets (optional) and the name of the establishment where the qualification was gained.
Advertisements
Skills, abilities and achievements
If using the functional or skills-based CV format, this section will appear before the employment and education sections and will make up the bulk of the CV. This section is crucial, particularly if you are lacking in academic qualifications.

Here, you list all achievements that you managed or manoeuvred in your previous jobs, as well as all other contributions that you may have made and all skills required to carry out that position.

Include things such as "Set up system for tracking incoming correspondence improving turnaround time by over 10%" or "responsible for managing a team of 6 staff" and "won sales award for most sales generated in one year".
Key words
Key words are becoming an increasingly useful part of the CV, particularly when computer scanners are becoming the norm when screening for potential candidates. Often, they look for key words and pick out those CVs that contain the appropriate phrases. This section is just a few lines of special key phrases written in bullet points that are recognised in each profession.

For example, if writing about an administrative position, key words would include: Word processing, telephone reception, customer relations and data archiving.

Include this section below your profile or underneath your contact details.