Functional CV (skills-based)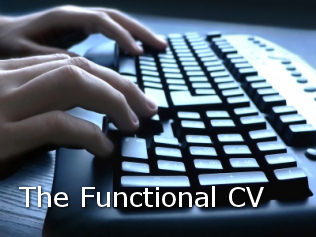 What is a functional CV?
The functional, skills-based or ability-based CV as it is also known, focuses on the skills, abilities and professional expertise that you have developed throughout your career history, rather than when and where you acquired them.
In this style of CV the emphasis is taken away from job titles, employers' names and dates worked, which is helpful if you have changed jobs many times or been out of work for long periods of time.
Advertisements
When to use a functional CV
The functional CV is useful in a number of circumstances that are outlined below:
If you have large gaps in your career history due to illness, bringing up children etc
If you have frequently changed jobs
If you are fresh out of university or college with little work experience
If you want to highlight the fact that you have an abundance of skills and achievements but are perhaps edging towards the later stage of your working career
If you are contemplating a complete career change where your last position does not hold any relevance to your new post
This type of CV tends to hide dates or de-emphasises them, and rather focuses on any achievements, skills and abilities that have been acquired over a long period of time. These skills are often referred to as transferable skills, which can be gleaned in work or informal situations, so this is useful for anyone that has not been in a steady work environment and has perhaps been out of work for a long period of time.
Although you may not have been working as such, staying at home and looking after several young children, as well as overseeing the daily running of a busy household demonstrates a whole host of organisational, time-keeping and monetary skills, not to mention other favourable attributes such as patience, ability to work hard and motivation!
When not to use a functional CV
The functional CV is not very useful if you have worked in the same industry all your working career and you want to demonstrate a clear growth in a single profession.
Your functional CV should include:
(in this order)
Personal details such as name and contact details.
A brief career objective. This is a short paragraph detailing what position you want, and how your skills can be used to benefit the company that you want to work for.
A career summary that contains a compact paragraph of all of your past achievements and contributions and your skills and personal attributes that will entice the reader to employ you.
Next, where you would then detail your employment history in a chronological CV, this is replaced by a series of "functional" headings such as "sales", "management", "marketing", "organisation" etc that are followed with proof of your skills in those departments. Make sure that the headings that you use are relevant to the job that you are applying for.
After this section you should include your work experience and educational history but these paragraphs will be featured near the bottom of the page/document with minimal information supplied.
At the bottom of the CV you should have a separate heading for references, but the phrase "Available on request" will suffice.
Advertisements
Sample Functional CV (skills-based)
Ann E. One
123 The Road, London, SW12 49X
0207 600 0000, 01234 5678, ann@emailadress.co.uk
| | |
| --- | --- |
| Objective: | A managerial position in a large fashion house where my management, sales, customer relations and creative talents can be effectively used to motivate staff and to contribute to an increase in the company's annual turnover and profits. |
| | |
| --- | --- |
| Summary: | Over ten years of sales experience in ladies' fashions. Responsible for increased annual turnover of 20% and managing staff of 10. |
| | |
| --- | --- |
| Sales: | Increased sales by 20% resulting in a £600,000 profit increase. Trained new members of staff and existing staff in methods to increase sales and good salesmanship. Handled orders of new stock and then designed layout and actioned set up of floor space promoting new designs and sales items. |
| | |
| --- | --- |
| Recruiting: | Recruited competent new full-time and part-time staff based on CV selection and own-designed interview process. |
| | |
| --- | --- |
| Training: | Conducted weekly hour-long training sessions for staff on sales methods and customer care. |
| | |
| --- | --- |
| Management: | Managed 10 sales staff and organised holiday, sick and working rotas. Designed and organised promotions and sales. In charge of daily, weekly and monthly running of the store. |
Achievements:

Awarded best salesperson two years running
Increased turnover by 20% two years running
Introduced new stock that subsequently increased profits
Redesigned the layout of the store which helped attract new customers
Work Experience:
2005 - present
The Shop, Fulham
Ladies' fashion store
Sales Manager
2001 - 2005
The Store, Balham
Assistant Manager
| | |
| --- | --- |
| Education: | London University, BA Honours Sales and Marketing (2:1) |
| | |
| --- | --- |
| References: | Available on request |