Job application forms - how to fill out a job application form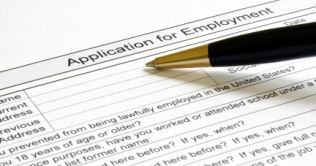 It is not uncommon these days to be asked to fill out a job application form when applying for many employment positions.

When faced with an application form of several pages, some people often feel daunted and begin to panic. The format, layout, small spaces and print can be off-putting.
Advertisements
In some cases, employers will ask for a completed job application form as well as a
CV
and
cover letter
. When asking for an application form, the reader is often looking for clear and concise answers and evidence that the applicant meets previously set criteria.
Below we have detailed some of the information that you will be asked to provide on a typical job application form and we offer advice and tips on how to do the best job possible when completing the application.
Getting started
First of all, it is a good idea to photocopy your job application form before you have written anything on it. Use the blank form as a practice form and then when you are happy that you have completed it properly, without mistakes, you can transfer the correct information onto the original form without having to worry about not having enough room or making a mistake.

Before you start to fill out the form, read through it at least once so that you know what you are being asked.

Know which job you are actually applying for (the title of it) and try to find out the job specifications of that position. More often than not, companies will send out a job specification with each application form. Make sure you know which skills they are looking for beforehand, as you will have to tailor your qualities to that specific application.

Check the closing date for all applicants to hand their completed forms in by and make sure that you complete the form before the closing date! Do not leave it until the last minute.

Application forms should be filled out in blue or black ink, although black is better. Ensure that you have a good blue or black pen that works properly.
Job information
In the first part of the job application form you may be asked to provide the job title and a reference number. Ensure that you have this information to hand and that all spelling and codes are correct.
Personal details
You will be required to give your name, address and contact details. Ensure that your surname and name go in the correct box and you don't get them the wrong way round. If you make a mistake in this easy section it shows that you are careless, not thorough and perhaps have a tendency to rush your work.
Employment history
Here, you must list your previous jobs with the most recent first and work backwards. You may have to list your duties and in doing so try to list tasks that could be relevant to the position that you are applying for. Make sure that you are clear in your layout.

Do not leave out any gaps and do not lie about employment dates, as they will more than likely be checked out.

You might be asked for the reason that you have left or want to leave your previous or current position. Do not write anything negative about your previous jobs or employers (as much as you may want to).
Educational background
Again, list your educational history with the most recent qualification gained first. You may be asked to attach a photocopy of your qualification certificates, so make sure that you know where they are in advance.
Advertisements
Skills and abilities
This section is really important. Make a list of the specific skills that are required for the position, taking the information from their job specification and then try to find true examples of areas where you have gained the same skills. Don't forget to add any additional skills that you may have such as speaking a foreign language.
References
All application forms will have a section that asks for the name, position and contact details for a number of referees who are willing to give a character reference about you. Ensure that your referees have agreed to this in advance and that the contact details that you have given are correct.
Finishing off
As with your CV and covering letter, make sure that you proofread the practice application form and check for any spelling or grammatical errors. Do not leave out any sections and if any question does not apply, write "does not apply" or "non-applicable". Transfer the correct information onto the original form and then take a copy of it to keep for your reference. Do not forget to sign and date the application form.

When you are called for an interview, take the copy of your application form with you, as it will be referred to by the employer.