When to move on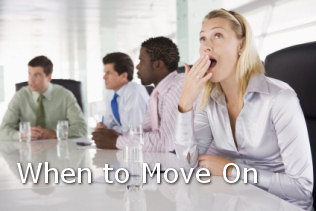 There are positive and negative, personal and external reasons for wanting to change jobs.

Moving from one job to another (as long as it isn't every other week) is not a bad thing, and does not mean that you are fickle or are a liability to your employer.

People change, in circumstances and in their needs, likes and dislikes, and therefore it is only natural that at some stage in their life, they will want to change certain parts of it.
In fact, nowadays it is the norm to not only change jobs on numerous occasions throughout the course of your life, but to also change careers several times as well.
Advertisements
Personal reasons for changing jobs
There are many personal reasons for deciding to terminate one job and move on to another. Perhaps you want more time at home with your children and therefore decide to work fewer hours, closer to home, or perhaps you have had enough of high-flying, corporate life and your dream is to open up your own cake shop or small cafe.

On a more negative side, if you are bored in your current job, it no longer satisfies you, you feel tired all the time or you can't concentrate, these are all symptoms of the desire to move on and find something more fulfilling.

Perhaps you already have an idea of another career path that you want to take or maybe you just know that you have to leave your current job, but you are not sure what you want to do next. It doesn't matter, once the seed has been sown, you will change employment as soon as the time is right.
External reasons for changing jobs
In some cases, you may actually be very happy in your job but have to make the move due to external forces. This, unfortunately, is not an ideal situation, yet you never know what is around the corner and it could end up working out for the best.

If your employer is facing financial difficulties, he may have to think about letting some staff go or perhaps your company has relocated and the money and time spent travelling to the new location is not worth it. Other situations may include a deterioration in relations with other members of staff, including your boss, or an unhappy working atmosphere in your office after a merger or takeover by another company.

On the upside, a change in employment could result from being headhunted or from being offered a promotion with more money, more benefits and a new plush office!
When to go
Once you have finally made up your mind that you are going to leave your job, the next thing is to decide when to go.

It is ideally best to ensure that you have another job lined up before handing in your resignation, for financial reasons, amongst others. If money is tight, it is best to continue to work until you have found another job, just in case you do not find one straightaway. Additionally, if you are out of employment for a long period of time, this could discourage future employers from taking you on.

Similarly, if you are due a holiday or a bonus, wait until afterwards before handing in your notice.
Advertisements
Is leaving a job really the right decision?
What if you are unsure about leaving your job? It may be that there is only one tiny aspect that is causing a problem. Without being too hasty, kicking up a fuss and storming out, maybe talking to your boss or colleagues is the best option and a solution can be found.

If you are struggling to survive on your wages and this is the motive for wanting to leave, you could talk to your boss about a raise. If your boss and company are happy with your work and do not want you to leave, it is also in their best interest to ensure that you are happy in your job.

Happy staff equals motivated and hardworking staff that put 100% into their jobs. Ideally, this is what every company wants.